CASE STUDIES
Make your move count and
create waves like these players
ABOUT US
March to your success
with our movement
An uprising is a-brewin' at Rebelution HQ to defy conventions in retail and industrial distribution and help you rewrite the rules of the game. We're industry veterans and leaders turned passionate adventurists who are making noise and resisting conventions to tip the scales in your favor.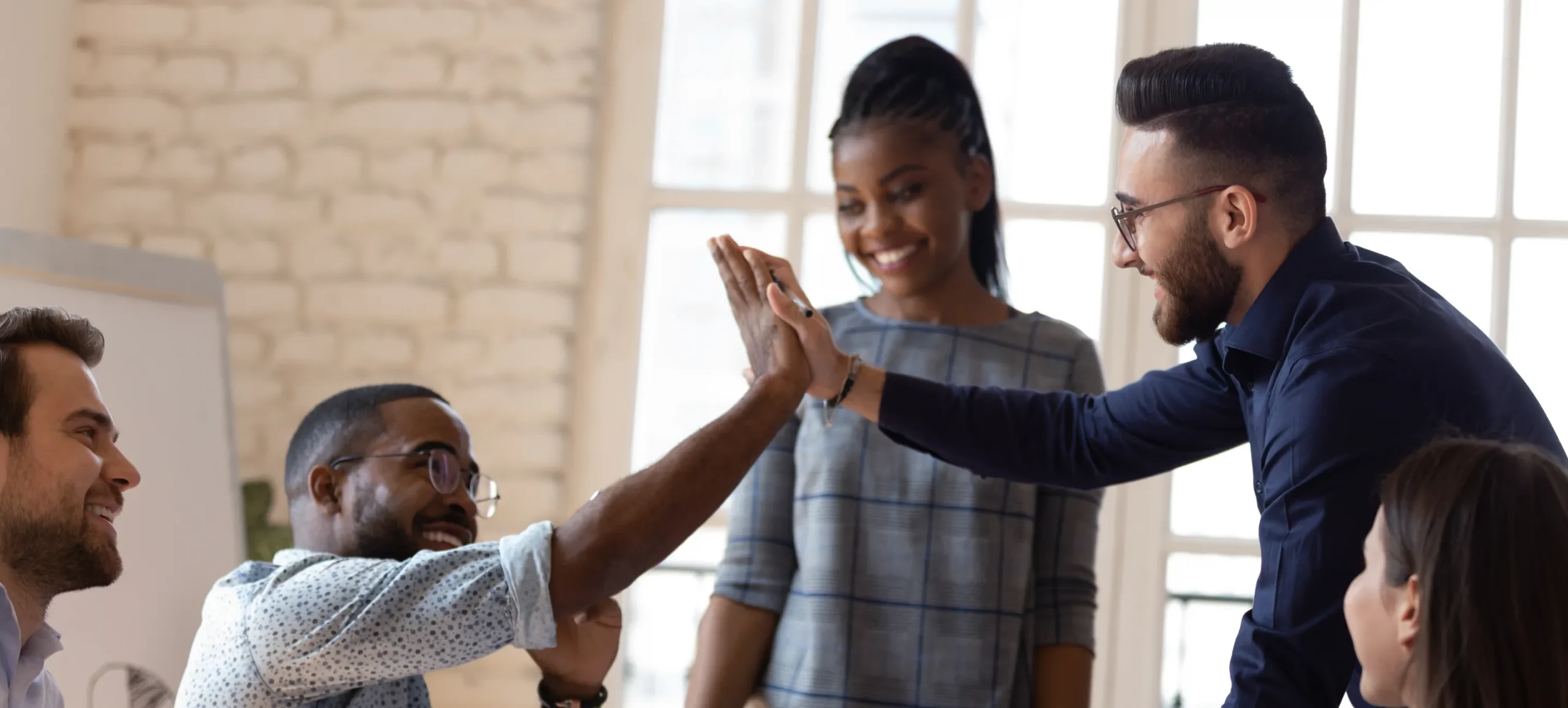 Services
Break those barriers to entry with
end-to-end services
PLATFORM
Dominate commerce with
smart ecosystems
Optimizes, simplifies, and increases advertising returns with customized reporting
Achieve strategic results with algorithmic bid management and adjustment
Generate revenue with AI recommended search terms
Save valuable time with automation, and effortlessly monitor and analyze performance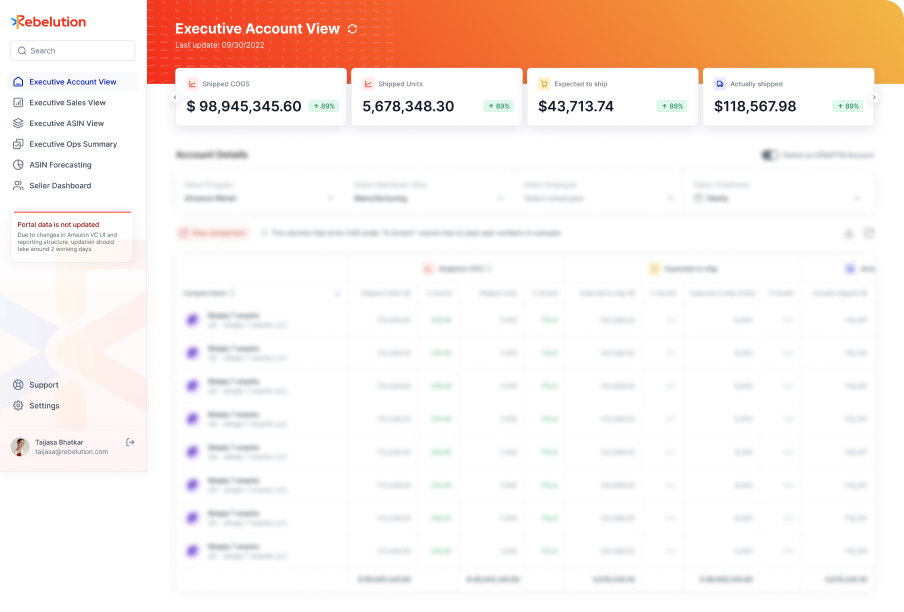 Compares performance of a specific product against the overall product category
Compare key metrics of a product such as Net Shipments, Shipped COGS, Net PPM, Accruals etc. against the overall category performance.
Identify areas of improvement and optimization to adjust strategies to meet changing category trends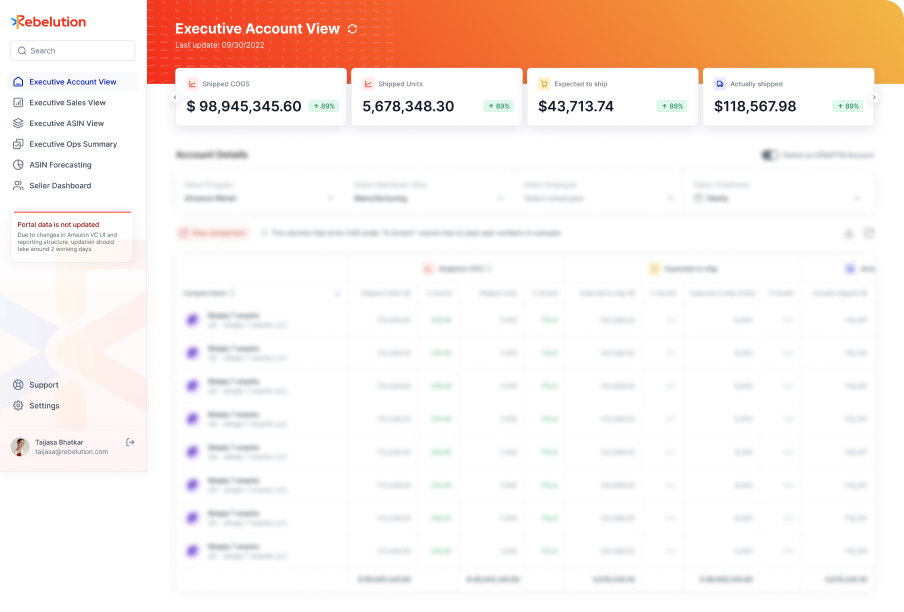 Helps evaluate the effectiveness and impact of the listing content
Identify areas for improvement in the content strategy for driving more traffic to the listings
Make data-driven decisions about how to optimize the content for maximum impact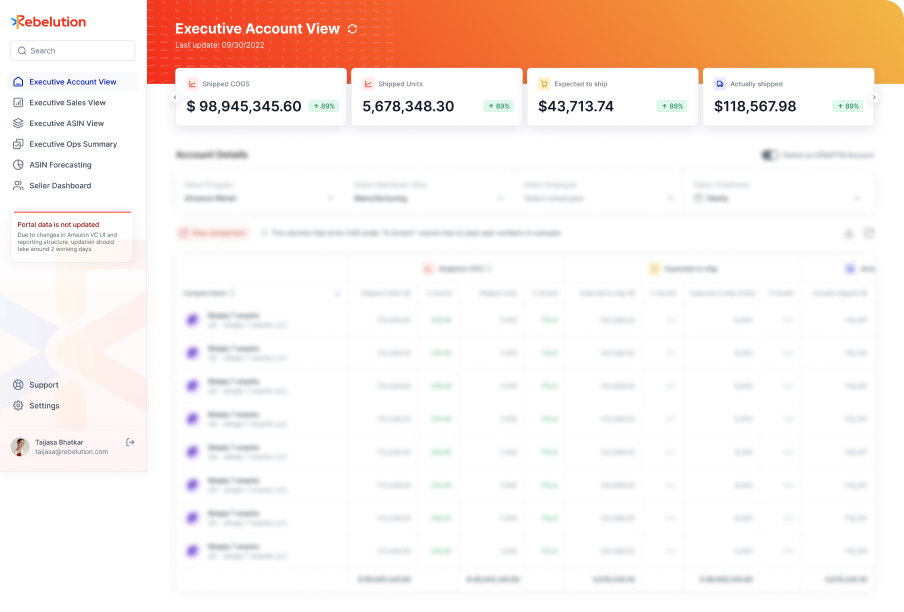 Enables you to check stock positions of Amazon at key zip codes in every state in the US
Get zip code wise details of product in stock, out of stock, limited stock left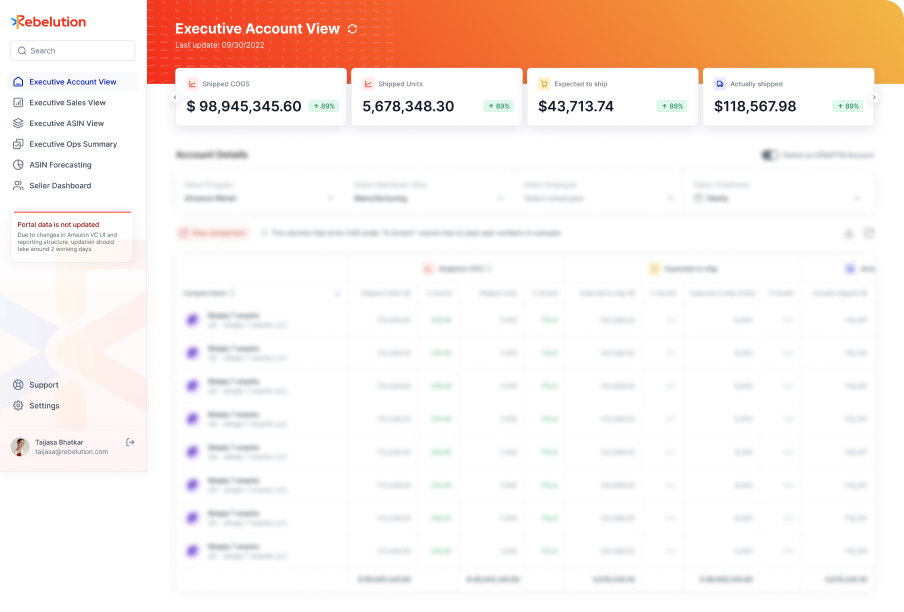 Monitors and reports counterfeiters of your products, title, bullet points and other key parameters
Daily checks of your listings to identify breaches
Automatically report breaches to Amazon
Review and optimize the product titles and bullet points for maximum visibility, relevance and conversion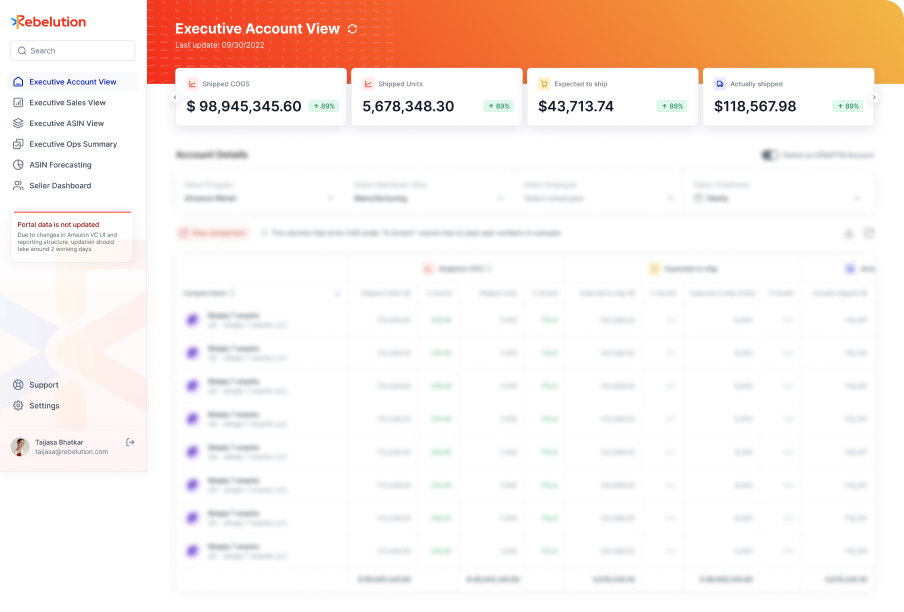 Helps identify and generate a list of keywords relevant to the products
Research relevant keywords and search terms that people use to find products similar to yours
Helps you attract more targeted traffic to your listings and improve the chances of converting those visitors into buyers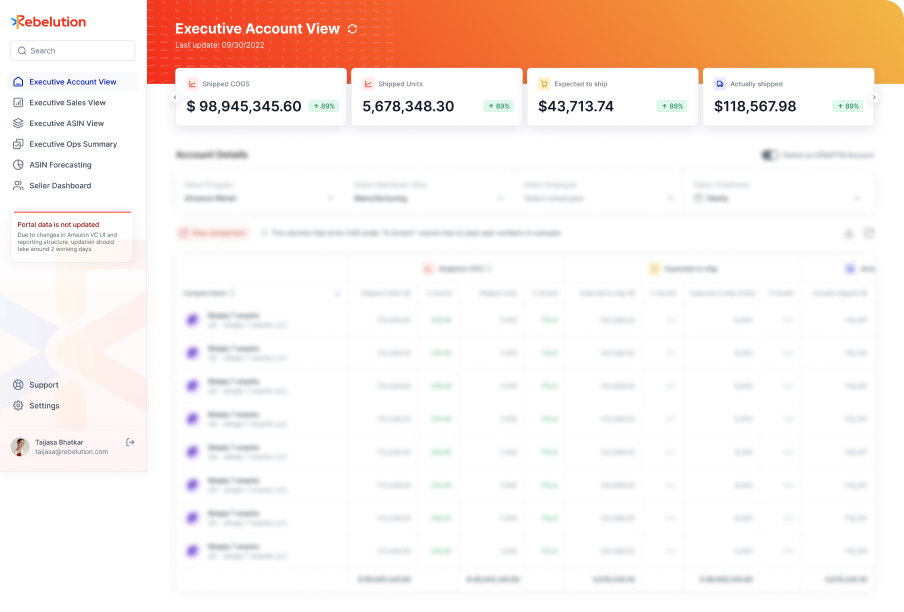 Receives user input of customer-facing variables to forecast more accurately than historical sales modeling
Defines the impact of customer reviews, ratings, marketing investment, promotions, coupons, sell price, and product ranking for precise forecasting in today's turbulent e-commerce marketplaces
Offers users a forecasting method more intelligent than models based only on historical sales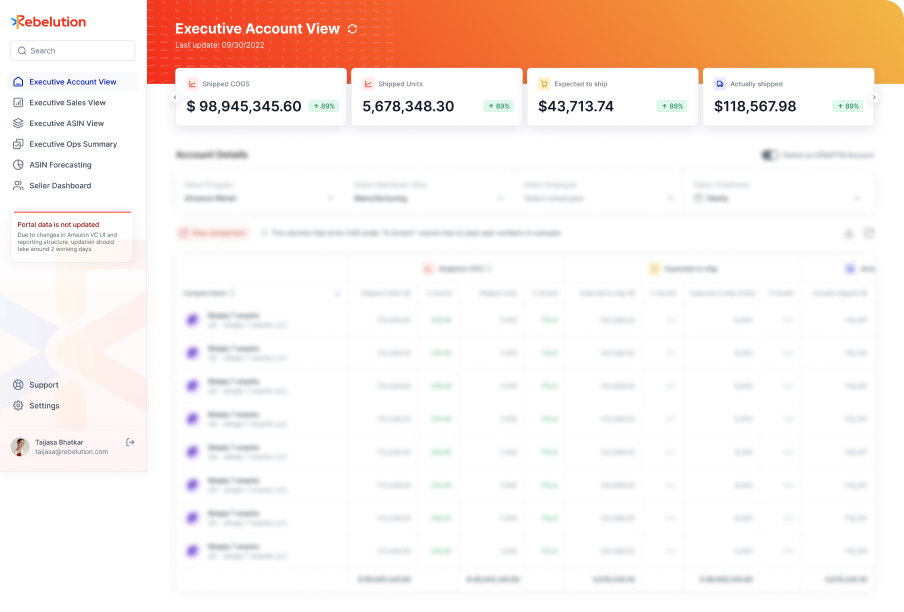 Gives brands insight into competitive and category landscape intelligence surrounding product, price and placement
Benchmark against competitor offerings to identify assortment gaps
Gain real-time pricing snapshots and identify Minimum Advertised Pricing (MAP) violations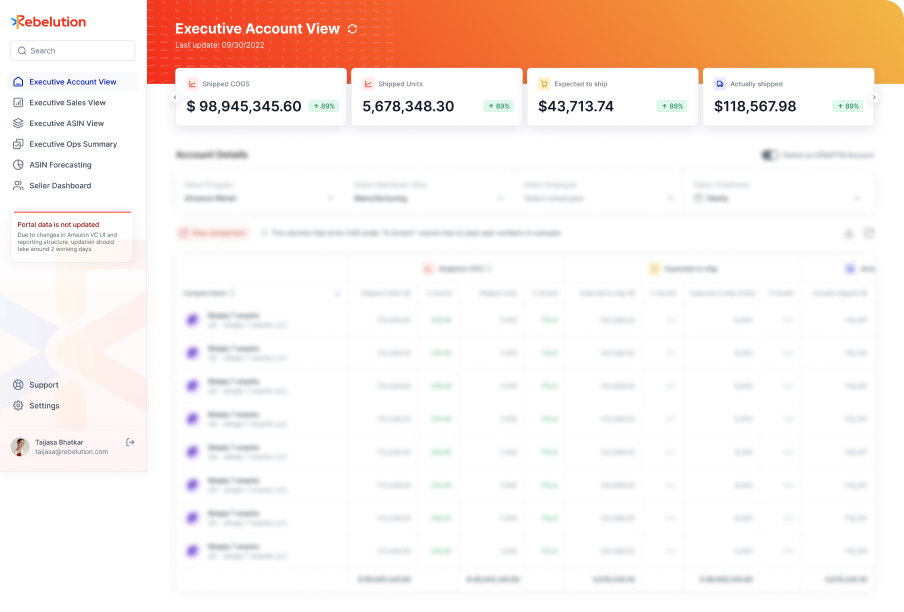 Intelligently mines product information, content, performance data, and pricing to empower brands to enhance product discoverability
Extract search data with a single keyword or key phrase, or extract specific data for bulk ASINs or UPCs
Acquire competitor data and product ranking from their product detail page
Discover gaps in SEO and content optimization throughout your catalog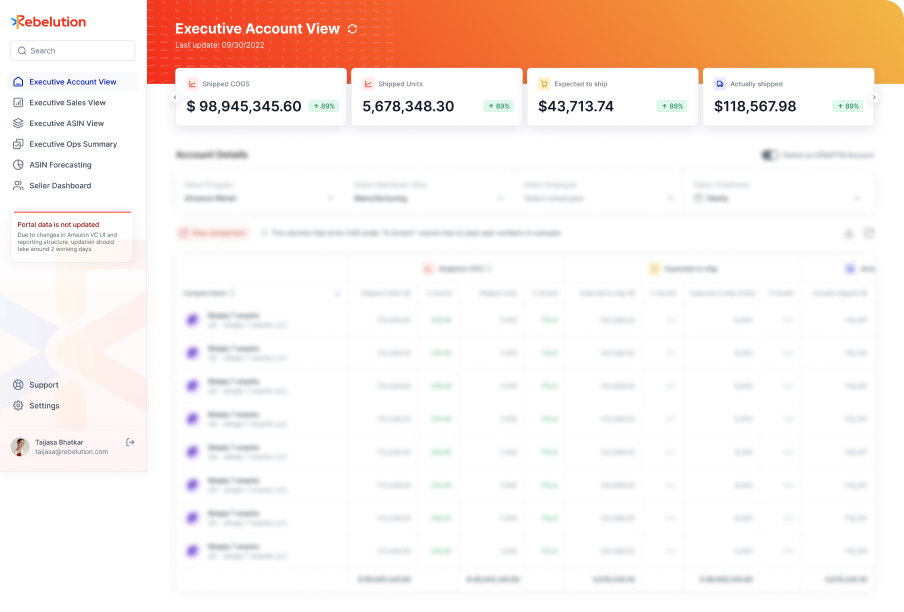 Measures the visibility and exposure a product receives in a key word search pertaining to a product category
Analyze count of your ASIN's in organic and ad searches
Identify how your competitors are ranked in specific keyword searches for the product category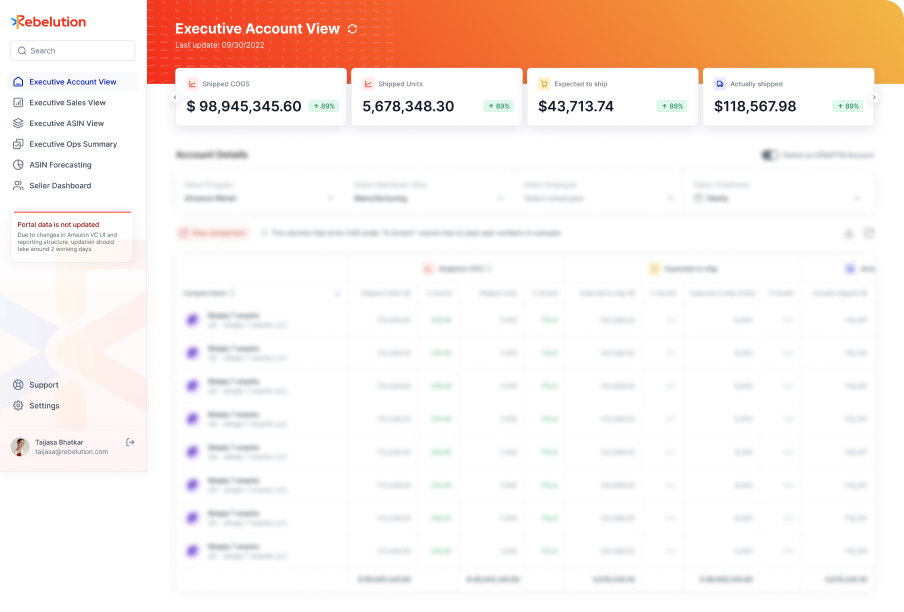 ś
HOW WE PARTNER
Tip the scales in just 90 days
An uprising is a-brewin' at Rebelution HQ to defy conventions in retail and industrial distribution and help you rewrite the rules of the game.
30 Days
In the first 30 days, we'll set you up for success
Understand the market
Evaluate content and media
Set up seller accounts
60 Days
Next, we help you focus on sales
Access Multiple Sales Channels
Build and Launch Brand Campaigns
Commence eCommerce Sales
90 Days
Then, we focus on growth and expansion
Analyze and Review Sales Reports
Explore New Product Offerings
Enhance Campaign Management
Insights
Latest insights from Rebelution
TESTIMONIALS
Our profitability has increased
"With the help of Rebelution, we have significantly grown our Amazon business for 2 consecutive years and are continuing the growth into our third year. Both their technology and incredibly deep understanding of the Amazon platform has helped us hit not only our budgets but also our stretch goals. They are a great partner to have."
Jeff Johnson
Vice President of Sales
Johnson Level – Hultafors Group
"Rebelution is the perfect partner for AmerTac. Their experience and dedication at Amazon are second to none, and joining forces with them now is perfect timing as we expand our e-commerce resources and dedication."
John Quast
CEO
AmerTac
"Everyone at Rebelution is a pleasure to work with. They are knowledgeable, responsive, and fun to work with. Not only do they support us with our current business, but they are always ten steps ahead thinking of the future of our business.  You can't have a better partner than that!"
Robert Wynne
Director of eCommerce & Sales
Adesso Inc
"We are thrilled to partner with Rebelution to launch Dunlop Protective Footwear USA on Amazon. Dunlop is the innovation leader in protective footwear, and we are excited to bring our proprietary Purofort boots, and our Made in USA PVC work boots to the Amazon consumer. Rebelution knows how to win in the B2B space and will help extend our brand into the B2C marketplace"
Colin Clark
Chief Marketing Officer
Dunlop Protective Footwear
Team
Ragtag bunch of experts
and misfits in retail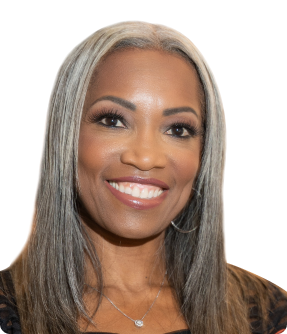 Melonie Carnegie
Chief Executive Officer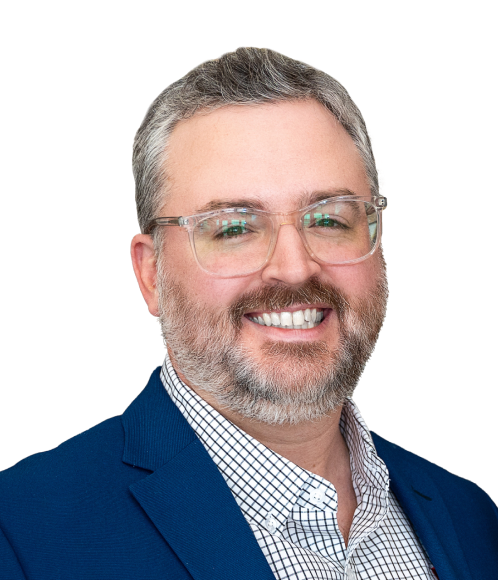 Justin McMillan
VP, eCommerce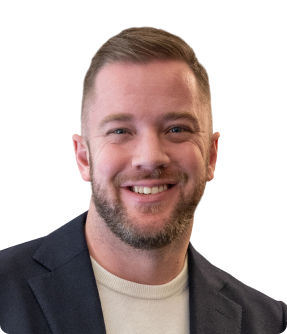 Cody Niles
Director of Sourcing and Distribution
CAREERS
Let's make a difference together
We are always looking for talented people who embody our company values. If you think that's you, please get in touch.
CONTACT US
Let's change the game together
What keeps you up at night?